The East Gorge Food Trail is open throughout the year and is designed to be explored at your own pace – you are welcome to start and finish wherever you like. To ensure a positive experience, please review the seasonality and hours of operation for the working farms and orchards listed in this brochure and note when it is best to call before arriving.
Your experience along the East Gorge Food Trail should not end when you leave the area. We encourage you to bring a taste of your journey back home to share with friends and family as a reminder of the bounty available in the eastern reach of the Columbia River Gorge.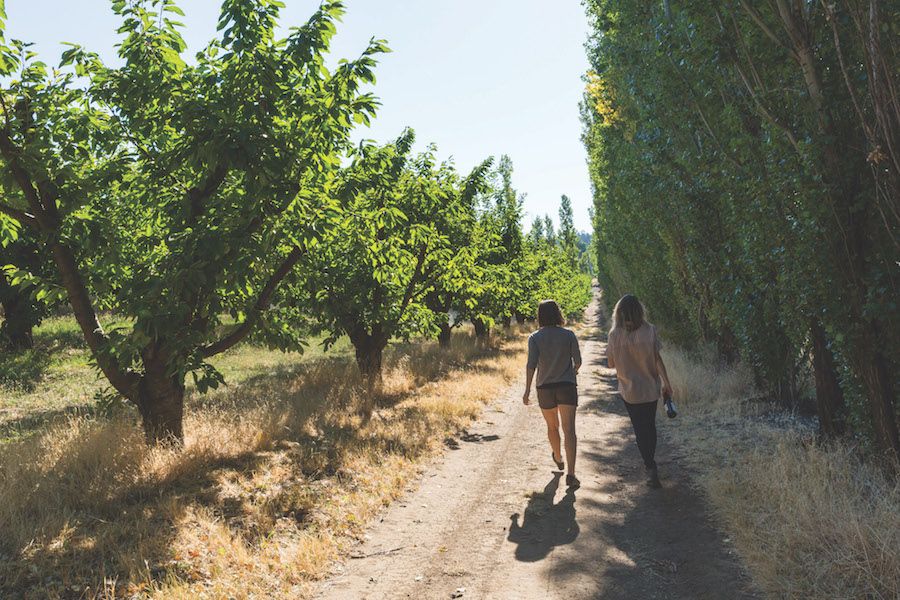 SEASONALITY ON THE TRAIL
High season varies per business but is typically June – Sept. Seasonality of key products is listed below:
• Cherries: End of June – Mid-July
• Apricots: July
• Peaches: July – August
• Apples: Late August – October
• Pears: Mid-August – Mid-September
• Wheat harvest: July – August
The working farms along this trail provide some of the most unique and engaging experiences. We ask that you respect the invitation to enter each property and be cautious around farm animals and equipment. Children must be supervised at all times and you should be prepared to follow all site-specific rules. For your safety and comfort, be prepared with appropriate footwear, sun protection and water.
GO CAR-FREE
If you want to make your experience of the East Gorge Food Trail a car-free adventure, visit columbiagorgecarfree.com.
GO GUIDED
Interested in a guided farm, orchard and beverage tour? The following operators offer tours to select trail stops and can build custom itineraries:
• MountNBarrel | mountnbarrel.com
• Martin's Gorge Tours | martinsgorgetours.com
• Sol Rides | solrides.com